Ambrosia is excited to offer customized holidays for small groups, as well as itinerary planning services for those who prefer individual travel--always personalized for the optimum experience for every traveler. Below are some sample itineraries for small groups. Coming soon: sample itineraries for couples, families and individuals.
​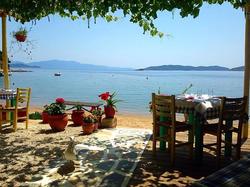 ---

Travel in Greece: A unique feast for body and soul
Experiencing Greece offers travelers an unforgettable awakening of the senses through dramatic seascapes, extraordinarily diverse landscapes, fragrant aromas and exciting tastes. The Greeks inspire visitors with their philosophy for living—the importance of generosity in sharing the simple pleasures of life, which is most evident at the Greek table where body and soul are nourished by dishes cooked with locally grown ingredients, seasoned with herbs, olive oil, love and imagination.
Every corner of Greece has its own character, traditions and foods that have evolved over time. Join us to discover some of these corners and experience the beauty of Greece as well as learn the secrets to delicious and healthy Greek cuisine. We will taste varieties of Greek honey, olive oil and fabulous Greek wines as we travel through the rich heart of culinary and cultural delights. We will also have hands on cooking lessons with a Greek chef while we explore Ancient and Byzantine wonders, lavish the crystal Aegean and gorgeous beaches and relish every meal at the deliciously nurturing and convivial Greek table. Tours are limited to 10-18 guests, so the schedule can be customized in order to ensure a uniquely personalized cultural and culinary experience.
Included in tours:
Full-time services of the guide, who spent 20 years living in Greece, is a passionate philhellene and chef of Greek cuisine-- fluent in the Greek language and culture--and will make the fascinating history, art, culture and cuisine of Greece come alive.
Hand picked, charming hotels or B&Bs in optimal locations
All breakfasts and a number of additional meals to ensure the ultimate culinary experience
All local taxes
Land transportation and airport transfers
All tours, entrance fees, organized activities and transportation
Detailed itinerary with descriptions of sites and towns, as well as culinary traditions and specialties of the area

​About your Tour Guide Carol Papaletsos:


I was born and raised in Columbia, South Carolina, but my spirit is Greek. I fell in love with Greece on my first visit and subsequently, got a my BA in Modern Greek Studies at Boston University. Then I moved to Greece where I lived for 20 years and developed my love of Greek cooking. I have now returned to my hometown to promote Greek culture and share my passion for authentic Greek cuisine through my business, Ambrosia.

I am excited to offer Culinary and Cultural travel experiences, where I will share my extensive knowledge of Greece by leading or consulting guests for an unforgettable journey to some of the timeless corners in Greece. Travelers will not only explore genuine flavors but also live the amazing Greek table and hospitality. It is my hope that guests will bring a bit of Greece home with them, recreating authentic Greek cuisine and conviviality at every meal.